The Path to Effective Communications and Professional Relationships
DALE CARNEGIE WAS A WELL-KNOWN MASTER OF PEOPLE SKILLS
That's why, inspired by his precise and practiced methods and fine-tuned over decades, our courses are specifically designed to transform individuals and teams into capable professionals who are highly skilled in interpersonal communications.
DEVELOP THE COMMUNICATION SKILLS NEEDED TO SUCCEED.
When you look at any successful person, what do you see? Confidence. Competence. Charisma. They're engaged in all aspects of their work and life, communicating and inspiring others as they lead by example. And those are skills and traits anyone can possess. They only have to learn how to best leverage them.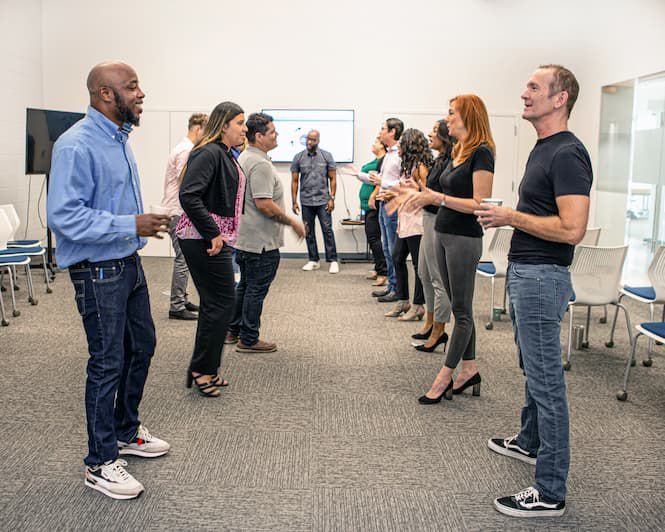 PEOPLE SKILLS TRAINING COURSES
Create the Confidence and the People Skills to Influence and Inspire Others
• Build authentic relationships with tried and true methods.
• Motivate and appreciate contributions from team members.
• Respond to difficult situations in a confident, diplomatic, and tactful way.
• Communicate clearly and confidently with diverse generations.
Top People Skills Training Courses
This world-famous course will give you confidence and competence to gain the command you need in your career and personal life. Enhance skills to communicate logically, clearly, and concisely.
Effective Communications and Human Relations
This course is the live online version of the world-famous Dale Carnegie Course. Master the communication skills necessary in today's demanding business environment.
How to Communicate with Diplomacy and Tact
You'll realize that standing up for yourself, when done effectively, doesn't offend others; rather it strengthens your relationships and enables positive results through effective communication.
Gain insight into your own reactions to discord, and practice expressing yourself in an acceptable way. Learn to be more tolerant of alternate viewpoints and discover six rules for disagreeing agreeably.
Communicate with Different Personality Styles
This 1-hour course will help you to identify your own personality style and how you react under pressure. You'll then be able to modify your behaviors so you can connect with people of different styles.
Connecting and Collaborating with Others
You'll learn ways to apply principles for building trust and rapport in relationships. You'll discover how to identify opportunities to improve relationships and build collaboration between teams.
Our People Skills Training Courses Will Help You:
WHITE PAPER
Emotional Drivers of Employee Engagement
Engagement is more than being happy at work. Learn the power of positive emotions on employee engagement.
CORPORATE SOLUTIONS
Develop Essential Peopls Skills in Your Organization
Designed to pass a lifetime of Dale Carnegie's own learning and practices on to anyone, our People Skills training courses enable quick adoption and ability to putting new-found communication and relationship skills into play at work and in everyday life, immediately making new friends, business contacts, and respected colleagues.
"The Dale Carnegie Course gives you an overview on how to deal with not only difficult people in the workplace -- it also shows you how to communicate and deal with any one you come in contact with every day. The course also shows you how to deal with stress and worry. The trainers provide a very engaging, hands-on course -- you are not just there having someone talk to you. The course gives you an opportunity to get you out of your comfort zone. I wish I had taken this course several years ago when I was in a management position. I believe anyone from high school/college age to upper management / executive would benefit from this course because it touches on several different areas."
Expand and sharpen your skills for a more successful career.
Contact us and explore how we can meet your unique challenges and allow you to take command of your career, your organization or your team.