Ignite Workplace Enthusiasm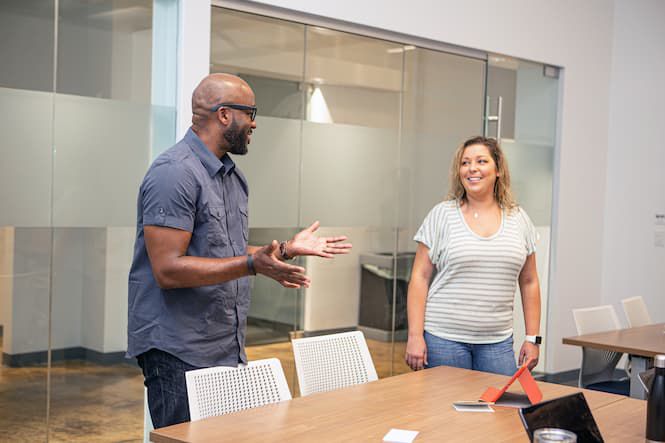 SUCCESS STARTS FROM THE TOP
Today's leaders have tall orders—they must immediately and consistently build their business by aligning the vision, mission, and values, while creating a team-first culture and spirit that builds courage and profitable results. Successful corporate team building increases employee engagement, boosts company moral, and ensures teams accomplish company goals beyond expectations.
LEADERS SHOULD SHOW EMPLOYEES A SENSE OF MEANINGFUL APPRECIATION
Leaders at all levels should be equipped to create a sense of importance in employees that sets individual talents and passion in motion toward achieving the shared vision. That's why training for our Organizational Development solutions helps you establish and articulate a clear vision that sparks engagement and commitment.
ORGANIZATIONAL DEVELOPMENT TRAINING COURSES
Build Effective Employee Engagement, Relationships, and Commitment Levels
Build awareness of and enhance individual leadership strengths.
Learn to execute plans through delegation and empowerment.
Increase internal cohesion through team building.
Collectively achieve organizational priorities and objectives.
Top Organizational Development Training Courses
How to Communicate with Diplomacy and Tact
This course will help you influence outcomes and create cooperation through diplomatic and tactful communication.
Confident, Assertive, In Charge: Developing the Attitudes of Leadership
This course explores ways to increase your visibility, approach new people, and most importantly, boldly deal with difficult situations with composure.
In this 2-hour course, you'll discover the aspects of workplace change that are within your control, and will enable you to take a creative and energetic approach to adapting to change.
Our Organizational Development Training Courses Will Help You:
WHITE PAPER
Transforming Attitudes and Actions
Dale Carnegie Training examined the perceptions of senior leaders across four countries regarding the strength of their own company cultures, their attitudes about its importance and impact, and actions they are taking to improve it.
Your New Solution for Organizational Development
Dale Carnegie training provides courses in team building and other areas to help you develop a powerful employee engagement strategy and achieve all of your objectives.
Contact us to learn more about our training modules on building a vibrant team, and engaging and developing your employees.
"Dale Carnegie helps us move to the next level. The best part is the wide range of courses offered that let us personalize the development based on the individual needs or opportunities of our team."
Expand and sharpen your skills for a more successful career.
Contact us and explore how we can meet your unique challenges and allow you to take command of your career, your organization or your team.